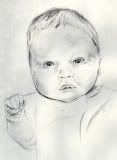 Here is a pencil sketch portrait Jill Greenfelder hand drew from a photo. As mentioned in an earlier post, ordering portraits is really easy!
1) Email or mail us a photograph of the person, pet or house you would like rendered.
2) Select one of the following sizes for your portrait:
• 8.5" x 11"
• 11" x 14"
• 16" x 20"
3) Select the medium for your portrait, we offer:
• Black & White Pencil Sketch
• Acrylic Paint
• Watercolor