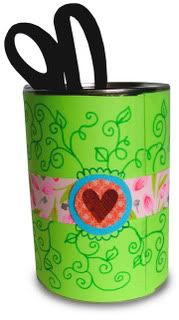 ©2008 Broken Box Designs™
New Year's Resolution: "Get Organized Kids!" Eliminate clutter and organize your desk with these fun to make pen/pencil containers. Plus, ad a little pizzaz to your desk with bright colors and shiny embellishments!
SUPPLY LIST:
- empty coffee canister (was with soap before using)
- scrap paper (from magazines, catalogs, junk mail, construction paper, etc)
- washable markers
- tape or double sided adhesive dots (find in scrapbook aisle)
- plastic beads, rhinestones, buttons, or any other fun embellishment
STEPS:
1) Peel off coffee label if possible and clean canister w/soap and water. Towel dry.
2) Pick a fun colored paper or patterned paper and cut a piece of paper to wrap around canister as covering. Tape one end of the paper to the other to secure in place. Glue also works on the canister to secure, but is a little messy.
3) Decorate outside by taping fun colored papers, patterns, shapes, and decals to canister. Be creative and remember that anything works! Have fun mixing funky colors and patterns to create a unique piece of art!
4) Finish off your design with little buttons, rhinestones, glitter, yarn, beads or whatever else you want!
5) Doodle designs, your name maybe? with colorful markers or crayon. This really adds that unique touch!
6) Finished! Now just toss in your pens, pencils, sissors, etc and plaace this on your desk to stay organized.
Have fun!! :)