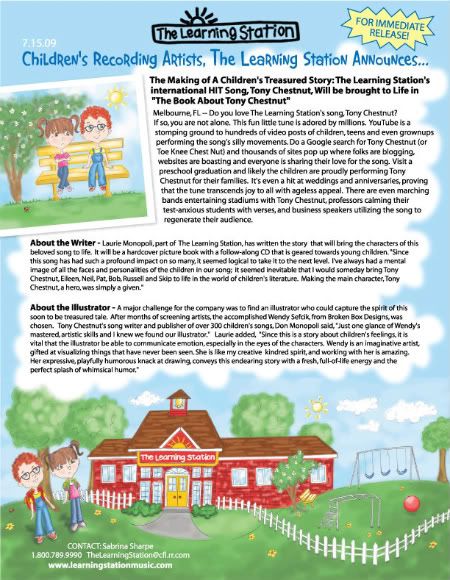 © Copyright The Learning Station. All rights reserved.
Click here to read the press release in a larger window.
For the past month or so now, I have been working on the illustrations for The Learning Station's new book: "A Book About Tony Chestnut. " I was VERY excited when they contacted me to join their team and bring this long awaited story to life! Since this story is going to be such a great hit, I'm going to hold off posting anymore illustrations from the book until it hits the shelves :) In the meantime, be sure to follow
Tony Chestnut's twitter page!  
Also visit
The Learning Station
online :)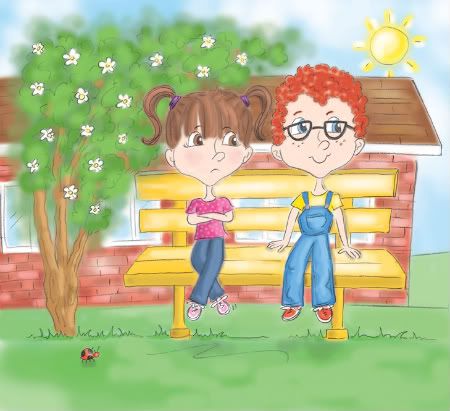 The Book About Tony Chestnut
The story is about a shy, six year-old boy named Tony Chestnut and his younger sister Eileen. The siblings have moved to a new town and are looking forward to their first day at their new school. Like all little children they are looking forward to making new friends. However, when all the children go outdoors to play, Tony and Eileen shyly sit on a big yellow bench and watch. They quietly watch as all the other children run around playing catch, swinging on swings and climbing on the jungle gym. It seems none of the children want to invite them over to play or be their new friend. Eileen suddenly becomes very sad and begins to sob. Tony makes every effort to cheer his little sister up. He even tries his silly monkey face! Eileen just sobs louder and with even bigger tears. Frustrated, Tony Chestnut does something that he never in his wildest dreams imagined he had the courage to do. He stands up tall, takes a deep breath, climbs atop the big yellow bench and.... The most incredible and wonderful thing begins to happen.