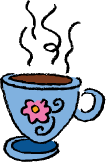 FREE DOWNLOAD! Download Web File, Download Print File
Introducing "FREEbie Friday!" Where a free illustration will be available in print/web file downloads. Other FREEbies will be posted occasionally, but count on Friday as a day completely devoted to FREEbies! So, if it says "FREEbie," it's yours - just click the download links above!

The first FREEbie is this cute little teacup in powder blue with pink little flower. Curly steam rises in swirls above cup.